The History of the AZA Motel
From the conception of the AZA Motel some years ago, a group of forward thinking Lismore and Sydney businessmen had the foresight to come together and create a Motel centrally located, that catered for everything from "A to Z and back to A" again, hence the name the A/Z/A Motel. To this day, the property is still proudly owned by the original developers of the AZA complex.
Our Motel's location is unique, within the CBD of Lismore. Shopping and entertainment attractions all conveniently close by and for those that seek a tantalising food experience. There are many great Cafe's and Restaurants, for example the LaVida Bar & Restaurant (www.lavidalismore.com.au) , which offers classic Mediterranean cuisine, in a stylish courtyard area, within an easy walk of the AZA.
The AZA MOTEL is the logical choice for the best accommodation at a sensible price – we know……. you will come again.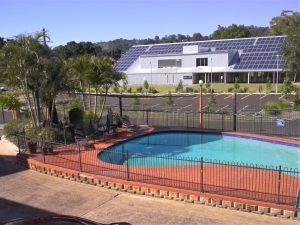 The newly constructed Lismore Regional Art Gallery is adjacent to our Motel Guest secure car parking and pool area.
Go to their link/website to see details of their many exhibitions and exciting events, happening throughout the year.
CHECK OUT OUR FREE OFFER…………….
The AZA MOTEL welcomes you with a  bonus offer for your direct booking with us by using our official website, with the  direct "BOOK NOW" button on this site.
BONUS OFFER that we are pleased to offer our guests, in conjunction with the "SHOE BOX CAFE"  (indoor/outdoor dining) located nearby, one voucher per person (maximum 2 persons, per room booking, per night) the following delightful "BRUNCH" choices, one meal choice permitted by voucher holder-conditions apply- Monday to Friday's only- from 7am until 2.30pm, not redeemable for cash or any other services.
Seasonal Fruit Salad with Yoghurt or
Pancakes or
Brekkie Burrito, Bacon, Cheese, Rocket, Chilli Bean & Egg or
Avo & Fetta on Sourdough with Lemon Oil or
Bacon & Eggs – your call
DON'T MISS OUT ON THIS  GREAT FREE  MEAL OFFER  from the AZA MOTEL & THE SHOE BOX CAFE 
If you are not an early riser that is fine, you can use the complimentary free voucher for a "BRUNCH" as availability is until 2.30pm!!
This great FREE offer is available only, when booking using  our direct booking "button" here on our website!
Conditions apply – Availability Monday to Friday ONLY.
The AZA MOTEL  has a unique CITY CENTRE LOCATION!!