The History of the AZA Motel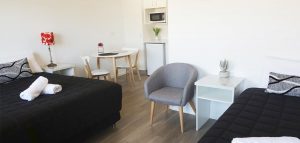 From the conception of the AZA Motel some years ago, a group of forward thinking Lismore and Sydney businessmen had the foresight to come together and create a Motel centrally located, for the needs and pleasure of the tourist and travelling business person.The concept was to create a Motel that catered for everything from "A to Z and back to A" again, hence the name the A/Z/A Motel. To this day, the property is still proudly owned by the original developers of the AZA complex.
Our Motel's location is unique, within the CBD of Lismore. Shopping and entertainment attractions all conveniently close by and for those that seek a tantalising food experience. There are many great Cafe's and Restaurants, for example the LaVida Bar & Restaurant (www.lavidalismore.com.au) , which offers classic Mediterranean cuisine, in a stylish courtyard area, within an easy walk of the AZA.
The newly built Lismore Art Gallery is adjacent to our Motel Guest secure parking area and offers a venue worth visiting.
The logical choice for the best accommodation at a sensible price – we know… you will come again.
The AZA MOTEL welcomes you with a SPECIAL DISCOUNTED RATE  (available until  15/12/17) for your direct booking at our official website.
Enjoy $10 per night off  by using our direct "BOOK NOW" button, compared with other booking sites.
Contact our friendly team to discuss your accommodation, or use our  direct "BOOK NOW" button and BOOK DIRECT with us, for the lowest guaranteed rate available.